Uruguay agency Publicis Impetu created a shoebox a third of the original size to demonstrate how flexible its new Nike Free 5.0 shoes are. Then they decided to roll the shoes up inside.
The collection of these boxes is limited.
Now Nike is going to launch an Internet campaign to allow people to contort the shoe by moving their faces.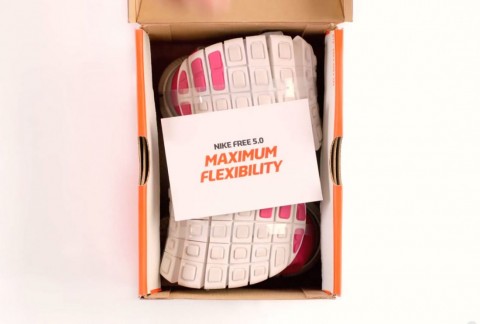 Views:
Aiden Carroll 에이든
Here's a lovely little packaging idea from #Nike, and I do mean little.
The Nike Free 5.0 is one of the most flexible sneakers ever made. And that's clear right from looking at the box, which was designed to be one-third the size of a regular shoebox.

As you can see from the video below, the sneakers easily fold up and fit inside. It's a great idea for many reasons—it uses less cardboard, it cuts down on shipping space, and of course, it communicates a product benefit right in the packaging. A great example of thinking outside the box—about the box.
(Youtube)
James3018
The Nike Flex runs are a great transition from non-running to running shoes ni the progression down to minimalist running shoes. They aren't too far of a step where they are painful to run in but definitely allow for my feet and legs to gradually make the transition to less cusion and support. (footlocker.com)
---