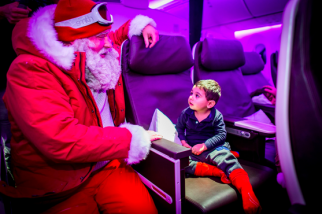 Virgin Atlantic and Microsoft arranged a surprise visit from Santa for passengers during a transatlantic flight to Boston from London this week.
At Heathrow airport, each of the 264 passengers was given a Microsoft Windows tablet before boarding the plane in London.
While on board, passengers could log on to Microsoft's Norad Track Santa service, which follows his movements around the world in the run-up to Christmas, and enjoy a live chat as he flew his sleigh over the Atlantic.
As the flight passed over Greenland, Santa appeared to radio the Virgin Atlantic pilots flying the aircraft, asking for permission to land on the plane - he wanted to give his reindeers a rest, get some refreshments and say hello to the kids on board.
The pilot was in on the act, announcing to the passengers, "If my eyes aren't playing tricks, I think I can actually see a sleigh and a reindeer."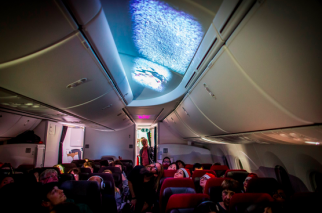 A simple projector was used on the ceiling of the plane to make it look like passengers could see, through glass panels, Santa's reindeer landing on the roof. Santa jumped out of the sleigh, wiped the snow from the roof and waved hello to the people inside.
Moments later, Santa appeared in the plane cabin. He stopped to pose for selfies before announcing that the tablets could be kept as a gift, and then disappeared back into the night sky.
Debbie Hulme, head of customer experience at Virgin Atlantic, said in a statement, "We wanted to offer something extra special for families flying with us this Christmas…We decided to partner with Microsoft… [which] is also providing us with the analytics to look at how passengers interacted with the technology so we can work out what they enjoyed the most. This will enable us to continually improve and innovate."
Virgin had the idea for the festive stunt, which was created in-house by Virgin and Microsoft, after a number of respondents suggested in a survey that the airline should have planes that let passengers look up and see the night sky above them. Both marketers promoted the stunt on their websites and in social media, including a YouTube video.
As well as introducing some festive cheer, the idea was to demonstrate what could be possible on future flights as digital technologies start to play a bigger role in the in-flight experience.
Fred Warren, creative director, Microsoft connected digital services, said, "Through this experience we are looking to explore how the aircraft can be brought to life in different ways via the use of digital technologies… and how passengers engage after the flight. We were able to give passengers a glimpse of what is possible from more immersive flight experiences."
Source: http://adage.com/
---