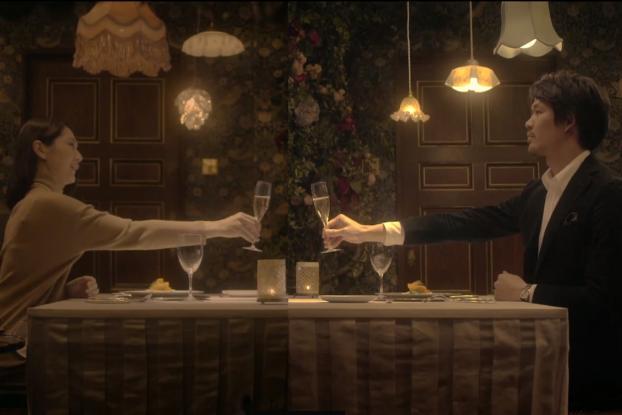 Spare a thought for any couple who won't be together for Christmas. A Japanese telecom firm did just that - and is using some of its technology to bring long-distance couples to the same virtual dinner table for a meal on Christmas Eve.
Via agency Hakuhodo, KDDI is hosting the special event for two couples (who have already been selected via a prize draw). Although both will be 400km apart, in Tokyo and Osaka, the couples will be made to feel as if they're sitting opposite each other via huge screen displays that will be set up in hotel rooms. But, there's more - there will be motion sensors on the screens so that the couples can clink glasses is if they are in the same room, and they'll appear to be blowing out candles on the same cake. The same waiter will appear to serve them and violinist serenade them, and they can even have photos taken as if they're together.
Anyone can watch the event on Dec. 24 on the website - and, to give the stunt a reality TV touch, the women will apparently not know they're being filmed, as their boyfriends have been briefed on the arrangements.
Previously Wieden & Kenendy Amsterdam conceived its own virtual holiday dinner that brought whole families and groups of friends together at a single table, but the interactivity on this latest idea is extra special.
Source: http://creativity-online.com/
---